Sponsorship Opportunities
**SPECIAL LIMITED TIME SPONSORSHIP OPPORTUNITY: Click Bait: Artist/Patron Sponsorship Certificate of Winning at 19th Annual Art Papers Auction
Join me at the 19th Annual Art Papers Art Auction, Saturday February 24, 2018 at 200 Peachtree Street, Downtown Atlanta for a very special one-night-only performance of Click Bait: Artist/Patron Sponsorship Certificate of Winning. You can bid online or in person. Negotiate in person or via Twitter @alienate. #buynathansharratt
Read the informational email here that includes info on the project and logistical details.
Everything is negotiable.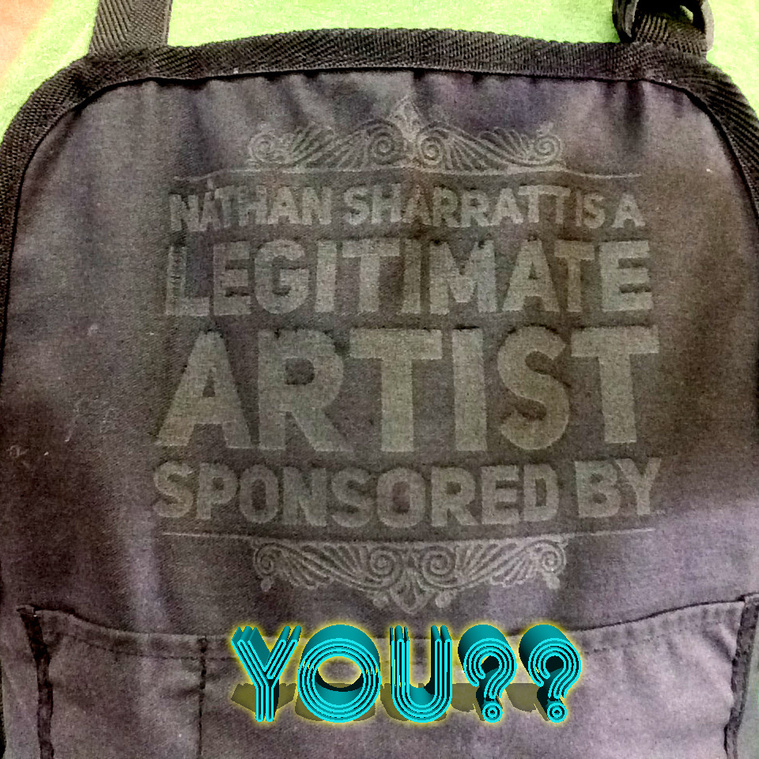 Act Now!
Love the flashy jumpsuits and corporate sponsorship of NASCAR but hate all the crashes and beer? Do you think art is cool but wish you could insert yourself into the process somehow?
Now You Can!
Why waste countless dollars putting food on your table and a roof over your head, when you can feed and shelter a starving artist! Be the envy of your peer group knowing you've contributed in a meaningful way to culture and discourse!
#buynathansharratt
Everyone knows artists get famous before they get rich, and Super Famous Artist Nathan Sharratt is totally famous and totally not rich. In fact, as a MAster of Fine Arts candidate at Georgia State University, he's living off of YOUR TAXES! Get that crazy artist off the dole and get him some Peanuts and Cracker Jacks!
I Hear You! How Do I Help?
It's easy! Just break out your PayPal account or credit card and click the handy Buy Now button below.
I Did It! What do I get for my support?
Congratulations on your purchase! It could be the best thing you've done in the past hour. You can feel secure that your Sponsorship dollars will be well spent on things like In-App purchases and Facebook Advertising! Now that you're an official Sponsor of Wicked-Good Artist Nathan Sharratt, contact him to discuss your branding details. Your name or company logo will now be indelibly BURNED with high-tech LASERS into Nathan Sharratt's Official Art Uniform, as seen above. It's size will be proportional to the amount of your Sponsorship. It will remain there FOREVER! Or at least until the smock falls apart because it's been burned so many times. You can now open a dialog with the Artist about anything you want. He may or may not listen, just like everyone else in the world, but he will probably be polite about it! You've earned that much!
I Want To Thank You In Person, How Do I Do That?
[COVID-19 UPDATE: Internets only these days!] You're in luck! Nathan Sharratt will be performing at the Welch School Galleries of Georgia State University from March 21-25, 2016, 10am-6pm, with a reception on Thursday, March 24 from 5-8pm. Docent tours given daily. Click here for more info on docent tour schedules and a Facebook Event Invite.